Bath towels are one of the few decor items in your bathroom that are also functional. Since they are used so often, many times they don't make it back on your towel rack as you had decoratively placed them.
Need a resolution so your kids or hubby can quickly hang your hand towels back up while still looking chic, try hooks or a ring towel holder instead. They can quickly put the towel back without folding, and sorting different sizes you have arranged on your towel bar.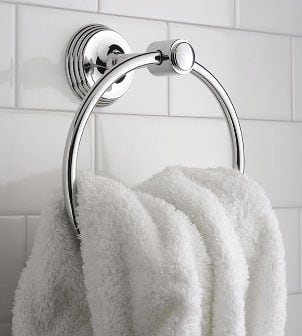 Don't these options look just as chic? Try mixing different color towels on hooks, or stick with the same color in different patterns.